Top Stories
August 13, 2018

It isn't that easy to drop everything in the middle of the week and fly to Washington. If you're a community newspaper publisher, going anywhere in the middle of the week is a challenge. That is when the newspaper has to be edited, wrapped up in color, printed, labeled and distributed to readers.
July 24, 2018
Judging results have been processed and the General Excellence winners of the National Newspaper Association 2018 Better Newspaper Contest and Better Newspaper Advertising Contest have been posted online here.
July 19, 2018
National Newspaper Association President-Elect Andrew S. Johnson, publisher of the Dodge County (WI) Pionier, yesterday told the International Trade Commission that tariffs on Canadian newsprint had inflicted severe damage upon community newspapers.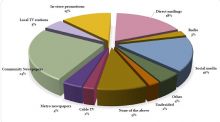 July 3, 2018
Ninety percent of the more than 1,000 people responding to the National Newspaper Association's 2018 readership survey said that their community newspaper informs them. And 73 percent said that their hometown paper provides valuable local shopping and advertising information.
June 25, 2018
Many of you have commented that your readers are concerned about the potential loss of local newspapers because of the newsprint tariff. Indeed, with printing costs up 25%-30% for many newspapers this year, and our insert advertisers also beginning to feel the pinch, we all have good reason to be concerned.
June 9, 2018
Legislation to hit the brakes on damaging trade sanctions against newsprint was introduced this week in the US House of Representatives by a bi-partisan coalition led by Rep. Kristi Noem, R-SD, and Rep. Charlie Crist, D-FL. The PRINT Act, HR 6031, would suspend tariffs now being collected on Canadian paper until the Department of Commerce completed a study on the capability of the US newspaper industry to absorb the hits.
May 9, 2018
Why is this issue current?
On August 29, 2017, a petition by a single newsprint mill in Longview, WA, to the Department of Commerce resulted in an investigation of Canadian imports of uncoated groundwood paper (UGW) to determine whether paper production was subsidized and/or shipments were being "dumped" into the US.
March 26, 2018
Educate yourself and your staff first about newsprint tariffs.
August 6, 2018
We made a giant leap forward Thursday in easing the pain of newsprint tariffs. The U.S. Commerce Department today significantly lowered the tariffs that would apply to Canadian paper.

June 28, 2018
"Our thoughts and prayers are with the families and colleagues at the Capital Gazette today," National Newspaper Association Susan Rowell, publisher of the Lancaster (SC) News, said.
« previous
1
2
3
...
39
next »