NNA News
September 20, 2018
National Newspaper Association President Susan Rowell, publisher of the Lancaster (SC) News, today wrote to the heads of the Senate Conference Committee on the fast-moving "Farm Bill"—HR 2—to urge protection of the Freedom of Information Act records on SNAP benefits.
August 29, 2018
"We are immensely gratified today by the International Trade Commission's vote not to impose permanent tariffs upon the North American newsprint supply. The paper markets serving community newspapers can soon begin to move back to market pricing without the heavy hand of government imposing taxes upon the primary suppliers of newsprint," said National Newspaper Association President Susan Rowell, publisher of the Lancaster (SC) News, said.
August 13, 2018

It isn't that easy to drop everything in the middle of the week and fly to Washington. If you're a community newspaper publisher, going anywhere in the middle of the week is a challenge. That is when the newspaper has to be edited, wrapped up in color, printed, labeled and distributed to readers.
July 24, 2018
Judging results have been processed and the General Excellence winners of the National Newspaper Association 2018 Better Newspaper Contest and Better Newspaper Advertising Contest have been posted online here.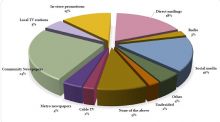 July 3, 2018
Ninety percent of the more than 1,000 people responding to the National Newspaper Association's 2018 readership survey said that their community newspaper informs them. And 73 percent said that their hometown paper provides valuable local shopping and advertising information.
May 9, 2018
Why is this issue current?
On August 29, 2017, a petition by a single newsprint mill in Longview, WA, to the Department of Commerce resulted in an investigation of Canadian imports of uncoated groundwood paper (UGW) to determine whether paper production was subsidized and/or shipments were being "dumped" into the US.
September 7, 2018
EVERYDAY SAVINGS
Access to members-only savings of up to 25% off MSRP every day on the latest in high quality appliances.
August 30, 2018
Randy Keck has been named the National Newspaper Association Region 6 director (Arkansas, Kansas, Louisiana, Missouri, Oklahoma and Texas). He is the owner of The Community News in Aledo, TX.
August 6, 2018
We made a giant leap forward Thursday in easing the pain of newsprint tariffs. The U.S. Commerce Department today significantly lowered the tariffs that would apply to Canadian paper.

June 28, 2018
"Our thoughts and prayers are with the families and colleagues at the Capital Gazette today," National Newspaper Association Susan Rowell, publisher of the Lancaster (SC) News, said.
« previous
1
2
3
...
22
next »