Advertising / Sales
Great ideas and concepts for bolstering your ability to attract and serve advertisers.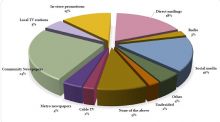 July 3, 2018
Ninety percent of the more than 1,000 people responding to the National Newspaper Association's 2018 readership survey said that their community newspaper informs them. And 73 percent said that their hometown paper provides valuable local shopping and advertising information.
August 30, 2018
Back in my ad agency days, I learned a big lesson about what to do—and what not to do—in a sales presentation.
August 30, 2018
My hometown newspaper instituted a new policy requiring that readers "pay" for the First Amendment right to express, and explain why, who or what they support or oppose at the voting booth.
August 30, 2018
Take a good look at your real estate section. Is it modern, does it contain local content; and is it making budget year after year? If not, take that old fashioned home section with the syndicated columns and turn it into a local Realtor™ (yes REALTOR) showcase.
August 14, 2018
For the advertising salesperson, he or she believes that the customer is thinking a buying decision usually means a decision to enter into a long-term relationship with him or her and the publication. It is much like an "advertising business marriage." Before the customer decides to buy, he can take you or leave you. He or she doesn't need your publication. But when your customer does finally make a decision to buy from you, and gives you money for your advertising service, he can become dependent on you. And since he or she probably has had bad buying experiences in the past, he or she can become uneasy and uncertain about getting into this kind of dependent relationship again.
August 14, 2018
As we come to the end of this little "How to sell print advertising" book, I'd like to leave you with seven undeniable truths—and one personal confession.
August 14, 2018
Back when I was in the ad agency business, I made a logo presentation that turned into a fiasco. It was an uncomfortable reminder of the importance of a presentation environment.
August 14, 2018
I know. We're still watering flowers, whacking golf balls and getting ready to put out the fall sports section. (Apologies to newspapers in states such as Florida and Nevada, where you can water and whack year-round.)
June 14, 2018
Although most advertising salespeople are knowledgeable about their publication, it's always a surprise when potential advertisers start asking a ton of questions about it and the salesperson is at a loss to answer them. Here are questions that could come up and need to be handled by the salesperson:
June 14, 2018
I was talking to Greg, a veteran sales manager, who said, "Our sales team knows the importance of asking questions and gathering the right information. But the key is to write it down accurately and keep it organized. When salespeople review their notes later, they need to be able to move as quickly as possible to the next step in the process, whether that's a proposal or the first ad in a new campaign.
« previous
1
2
3
...
21
next »