Join NNA Oct. 3-5, 2019, in Milwaukee, Wisconsin; Leading the Way in Our Communities

NNA's 133rd Annual Convention and Trade Show
, held at The Pfister Hotel in downtown Milwaukee, Wisconsin, will address pressing business objectives of community newspaper owners, publishers and senior staff with educational sessions and peer sharing activities.
Your full registration includes four general sessions, five sets of round table discussion sessions, an exhibit hall with more than 30 exhibitors and tickets to a welcome reception, two breakfasts, two lunches and one dinner with entertainment.
We value the time and resources you are considering investing in NNA's 133rd Annual Convention and Trade Show and promise you will not be disappointed.

NEW! 2019 NNA/WNA Leadership Summit*
Arrive early to learn ways to equip yourself to produce your community newspaper in our changing environment.
1:00 – 4:00 pm, Thursday, October 3
For: Community newspaper owners and publishers
Includes: An afternoon with Marty Kaiser and other industry leaders as they explore what it takes for a community newspaper to succeed both financially and as a public asset, plus access to the Trade Show on Thursday.
*Register for the Leadership Summit as a stand-alone event ($99) or add to your convention registration for $29.
Click here to see convention photos. NNA member newspapers may reprint. Please attribute to Publishers' Auxiliary.
Look who is coming to Milwaukee!
Click here for convention details.
Click here to view Session and Leadership Summit details.
Agenda-At-A-Glance
Thursday, October 3
1:00–4:00 NEW! Community Newspaper Publisher's Leadership Summit*
2:00–4:00 Trade Show: Ice Cream Social
4:15–5:30 Solutions Start Here!
5:30–7:30 Trade Show: Grand Opening Reception
Friday, October 4
8:00–9:30 Opening Breakfast & Keynote by Jackie Spinner
9:30–3:30 Trade Show Open
9:30–10:30 Libel Workshop sponsored by Walterry Insurance Brokers
11:00–3:10 Sessions
12:00–1:30 Lunch with Exhibitors
3:45–5:00 Great Ideas Exchange
6:00–10:00 Extravaganza: Harley-Davidson Museum sponsored by The Newspaper Manager
Saturday, October 5
8:00–11:00 Closing Breakfast & Awards Ceremony
EXHIBIT & SPONSOR OPPORTUNITIES
As an EXHIBITOR you'll be able to meet newspaper owners and publishers!
Beyond the Convention: opportunities to extend your reach
Solutions Start Here! info and application
As a SPONSOR your company's support will be known by each participant.
2019 Sponsorship Opportunities
Questions? Ask Wendy MacDonald!
Host Hotel
The Pfister is a historic hotel that was described as the "Grand Hotel of the West" when it was built in 1893 for $1 million. Today the hotel with its original Romanesque Revival design is an icon in downtown Milwaukee. You'll enjoy its Victorian art collection and the opportunity to meet the current Artist-in-Residence. Click here if you need more reasons to love The Pfister.
Hotel reservations: Click here or call 414-273-8222 or 1-800-558-8222
NNA's discounted rate: $179+ ($206 total) available through September 12. NNA rate includes three days before/after the event.
Airport
Milwaukee Mitchell International Airport (MKE) is 8.8 miles from the host hotel; about a 15-minute drive. Click here for airport information. https://www.mitchellairport.com/
Milwaukee is a vibrant city. Unless you've visited recently, it's very different than you may remember — it's family-friendly with lots of great things to do within walking distance to the hotel.
Learn more about Milwaukee…and consider staying an extra day or two. Plan your visit using the Visit Milwaukee website. Click here.
Social: #NNAinMKE
__________________________________________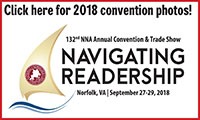 March 1, 2019
Jackie Spinner recently produced a documentary film in Arabic. This might not be unusual, but Spinner's day job is as an editor and journalism educator.
Spinner, who is headlining this year's National Newspaper Association's Annual Convention and Trade Show, started her life in Decatur, a small city in central Illinois.
June 29, 2017
YOU START HERE!
Past participants of the National Newspaper Association Convention & Trade Show say they easily recoup the cost of attending with the new ideas they take home and they say their time is well spent because they return energized and inspired.
For only $435 and three days out of the office, see how you will benefit from the innovation, education and camaraderie you will experience this October in Tulsa!
June 12, 2017
I remember my first National Newspaper Association convention vividly. It was in Atlanta, in 1988. The News-Gazette had been an NNA member for many years, but no one from the newspaper had ever attended the convention. My reason for going was because a major national retailer was building a large store in our town, and the company's marketing director was speaking at the convention. I felt I needed to hear more about the retailer's marketing and advertising strategy, particularly as it applied to newspapers.
May 3, 2017
National Newspaper Association members will find plenty to do before, after or in between sessions.
April 12, 2017
As a direct result of the 2016 National Newspaper Association 130th annual convention and trade show, I was able to introduce myself to several newspaper owners. This led to numerous quoting opportunities and new business, which has benefits for the NNA member and one of NNA's corporate partners.