Pub Aux Live Programs
The National Newspaper Association brings community newspapers revenue-generating ideas.
Pub Aux Live features publishers, editors, ad directors and others, with proven and workable ideas to increase revenue and help you build a stronger company in a question and answer format.
---
Save
Save
Save
Save
Save
Save
Save
Save
Save
Save
Save
Save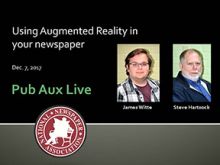 December 11, 2017
About the program: S&R Media LLC, which publishes The Navigator, The Carmi Chronicle, and The Prairie Post in Ilinois, recently began using augmented reality for some of its sports coverage and in some ads. Augmented reality is a live direct or indirect view of a physical, real-world environment whose elements are 'augmented' by computer-generated or extracted real-world sensory input such as sound, video, graphics, haptics or GPS data. Learn how to implement this at your newspaper and how to get advertisers on board.
December 11, 2017
Cross-department circulation building
About this program: The Lancaster News came up with a way to increase its single-copy sales, increase subscriptions and increase ad revenue. This plan involved sampling the newspaper to 100 percent of the households in one ZIP code within the paper's coverage area. It involved a cash drawing, with the contest and extra mailing costs covered by an advertiser.