YOUR Newspaper And Education Contest

2017 Newspaper And Education Contest is now closed.
Below are the winners to the 2017 NAE Contest.
For a list of winners by Newspaper, click here.
For a list of winners by Class, click here.
2017 Contest Winner Logos, click here.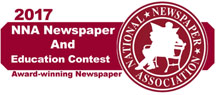 To get started, visit http://www.newspapercontest.com/Contests/NewspaperandEducationContest.aspx and register using the association code, NAE17. Please note: You must register every year. Login information created last year will no longer allow you to access to the contest database.

---

FAQs:
Q) What is the Newspaper And Education contest?
A) Strong newspapers and strong educational programs go hand in hand. Without fundamental commitment to civic literacy through education, the democratic process that rests upon fully informed citizens cannot function. Newspapers often contribute to civic literacy and education on their news and editorial pages, through mentoring and with direct community involvement. This award recognizes newspapers that have chosen an important civic literacy, journalism education or school support program and assisted in its success through use of the newspaper's various resources. Entrants are asked to choose from one of the following divisions and explain in detail how they developed their contributions to the program, and how those contributions played a role in the program's outcomes. Awardees should supply news articles, photographs, promotional brochures, testimonial letters, Internet publications and any other material they believe would assist judges in evaluating their involvement in their chosen program.
Q) Who is Kidsville News!?
A) For the fourth year in a row, Kidsville News!, a literacy and educational newspaper initiative based in Fayetteville, NC, has stepped up to sponsor the National Newspaper Association's Newspaper And Education contest. "Since 1998 the Kidsville News! Literacy and Educational resource program has played a very important role in the success of community newspapers," said Bill Bowman, president and founder of Kidsville News! "In addition to sponsoring the NAE contest, we are extremely proud and excited to continue to license our unique, successful and profitable NIE program with numerous members of the NNA," said Bowman. "We thank Kidsville News! for its generous support in helping us recognize the significant role newspapers play in supporting community educational programs," said NNA Contest Chair David Fisher, president and publisher of Fisher Publishing Inc., Danville, AR. "This generous sponsorship will ensure each of the contest's 10 first place winners will receive a check for $100 and an award certificate," he said. Newspapers interested in more information about bringing Kidsville News! into their community, can find more information by visiting their website at kidsvillenews.com
Q) How do I enter the contest?
A) CLICK HERE to register and submit your entries in this year's contest.

Q) What are categories and divisions are in the contest?
A) Click here for a list: CATEGORIES/DIVISIONS
Q) What are the contest rules, entry fees, etc.?
A) Click here for: CONTEST RULES/INFO
Q) What is the FINAL DEADLINE for entries?
A) The final deadline for entries in the 2016 contest is midnight, July 10, 2017.
Q) What AWARDS will be given?
A) Award certificates will be made at the discretion of the judges to first, second, third and honorable mention in all category divisions. First place winners will receive a $100 cash prize, sponsored by Kidsville News! An Awards Ceremony will be held during NNA's Annual Convention & Trade Show in Tulsa, OK, Oct. 5-7, 2016.
Q) Who are the PAST WINNERS?
A) For a copy of our 2016 winners by category, click here.
David Fisher, President/Publisher
Fisher Publishing Inc., Danville, AR
Chair, NNA Contests and Awards Committee
October 5, 2018
June 12, 2018
April 5, 2016
July 6, 2015