Public Notice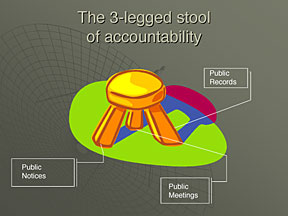 Public notices in newspapers are part of the three-legged stool of government accountability. Public notices help to inform the public on activities by the government and other public entities. Public notices have been included in newspapers from the beginning of the Republic. Now they are also on many newspapers' websites.
A valid public notice should have four key elements:
It should be published in a medium independent of the government or other entity compelled to provide notice.
It should be verifiable so that citizens can satisfy themselves that notice was properly given. An affidavit from the newspaper attesting to the type and date of publication is the typical verification, and these are often used in litigation to demonstrate that due process requirements were met.
It should be archivable so that future generations can retrieve it.
It should be accessible to a broad range of people. Surveys demonstrate that a wide majority of citizens believe public notices should be in newspapers.
Public notice resources
The public notices in most newspapers appear in the classified section. In some states, that is because state law considers them classified ads. In others, it's simply tradition. They've been there for all of our lives. Lewis and Clark used public notices. Most state constitutions were drawn up with the help of public notices.
January 1, 2020
National Newspaper Association has joined the Reporters Committee for Freedom of the Press, National Public Radio and 50 other media organizations to urge the U.S. Supreme Court to put tighter limits on sealed court records.
In a letter to Chief Justice John Roberts this week, the organizations pointed out a dramatic increase in the Court's approving requests to seal documents before the Court, which rose from an average of 22 each year from 2011 to 2016 to 46 in 2018. Sealed records were rare in the 20th century and in the first part of the 21st century averaged only 10 per year, the media groups said.
December 27, 2018
When the Air Quality Division of the Indiana Department of Environmental Management announced a proposal last year to move all of its public notice advertising from newspapers to its own website, its motivation for doing so was clear: bureaucratic efficiency.
October 22, 2018
When the Board of Elections in majority-black Randolph County, GA, introduced a proposal this summer to close seven of the county's nine polling places, many residents were angry. Some even accused the board of trying to hide the proposal.
August 30, 2018
Q Is there still a public notice in newspapers for unclaimed property?
May 4, 2018
Examining the public notice display in newspapers, their tombstone layout and dry legalese might not appear to be riveting journalism. But scratch beneath the surface and you might find a treasure trove of great stories.
May 4, 2018
If a contest was held for the least transparent city government in the U.S., the small town of Williamson, WV, would have to be considered a strong contender.
April 9, 2018
Garret Ellison, a reporter for MLive and The Grand Rapids Press, was named winner of the Public Notice Resource Center's 2018 Public Notice Journalism Award.
December 28, 2017
The failure to publish proper notice is rarely punished, so it was surprising to see local officials in Maine and Illinois recently relieved of their positions as a result of breakdowns in the public notice process. The sacked officials compounded their problems with other missteps, but notice issues were at the center of both dismissals.
October 16, 2017
September 13, 2017
North Carolina Gov. Roy Cooper's veto of a bad public notice bill is safe for now.
« previous
1
2
3
4
next »