Public Notice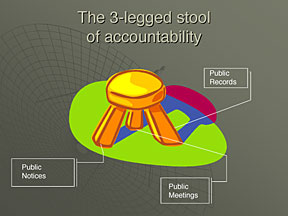 Public notices in newspapers are part of the three-legged stool of government accountability. Public notices help to inform the public on activities by the government and other public entities. Public notices have been included in newspapers from the beginning of the Republic. Now they are also on many newspapers' websites.
A valid public notice should have four key elements:
It should be published in a medium independent of the government or other entity compelled to provide notice.
It should be verifiable so that citizens can satisfy themselves that notice was properly given. An affidavit from the newspaper attesting to the type and date of publication is the typical verification, and these are often used in litigation to demonstrate that due process requirements were met.
It should be archivable so that future generations can retrieve it.
It should be accessible to a broad range of people. Surveys demonstrate that a wide majority of citizens believe public notices should be in newspapers.
Public notice resources
The public notices in most newspapers appear in the classified section. In some states, that is because state law considers them classified ads. In others, it's simply tradition. They've been there for all of our lives. Lewis and Clark used public notices. Most state constitutions were drawn up with the help of public notices.
December 28, 2017
The failure to publish proper notice is rarely punished, so it was surprising to see local officials in Maine and Illinois recently relieved of their positions as a result of breakdowns in the public notice process. The sacked officials compounded their problems with other missteps, but notice issues were at the center of both dismissals.
October 16, 2017
September 13, 2017
North Carolina Gov. Roy Cooper's veto of a bad public notice bill is safe for now.
July 11, 2017
The year began with a bang but may end with a whimper.
June 12, 2017
We have found a governor whose animus for newspapers might exceed that of New Jersey Gov. Chris Christie's.
May 3, 2017
Legislation that would authorize radio and TV station websites to publish public notices in Nevada has become a serious threat to newspapers in the state, according to the Nevada Press Association. Senate Bill 218 would establish broadcaster websites as an alternative to newspapers for all legislatively mandated notices in the state, including foreclosure notices and other private-party public declarations.
April 12, 2017
More than 120 public notice bills have been introduced in at least 37 different states through the first week of March, raising varying levels of concern among newspaper publishers and state press associations around the country. The only states where the danger signs are flashing red, however, appear to be Wisconsin and Missouri.
April 12, 2017
Amanda Fanger had a blast on her first trip to Washington, and perhaps nothing thrilled her more than standing at a podium at the National Press Club in front of an audience of newspaper publishers and editors, including Martin Baron, executive editor of the Washington Post, to receive a national award for investigative reporting.
April 12, 2017
Public notice is not a big deal to the nine South Dakota lawmakers who introduced House Bill 1167, a piece of legislation that would have moved municipal notices from newspapers to websites in many South Dakota cities if it hadn't been killed in committee. To Brian Hunhoff, public notice is absolutely vital.
March 13, 2017
At least 62 bills relating to public notice in newspapers have been introduced in 25 different states through the first week of February, according to a review of bill-tracking software used by the Public Notice Resource Center. In addition, no fewer than 16 other bills targeting public notice in three states carried over from 2016 and are still active.