NNA Classifieds
Brokers
GAUGER MEDIA SERVICE, INC.
Valuations, Sales, Mergers
Box 627
Raymond, WA 98577
www.gaugermedia.com
(360) 942-3560
---
KAMEN & CO. GROUP SERVICES, LLC
WWW.KAMENGROUP.com
626 RXR Corp. Plaza
West Tower,
6th Floor
Uniondale, NY 11556
516-379-2797
info@KamenGroup.com
The Leaders in Valuing & Brokering Publications
Newspapers, Magazines & Shoppers
We know valuations. We know deal-making. We'd like to get to know you, too!
Follow us on twitter at www.twitter.com/kamengroup
Let us provide the high level of professional, personal guidance and custom solutions that your media entity deserves. Global expertise, deep local market knowledge & unmatched integrity. We would be honored to help you.
---
Lon W. Williams
Media America Brokers
1130 Piedmont Ave. NE, Suite 912
Atlanta, GA 30309-3783
(404) 875-8787/FAX(404) 875-8756
LonWWilliams@aol.com
---
For a list of Newspaper Brokers, click here.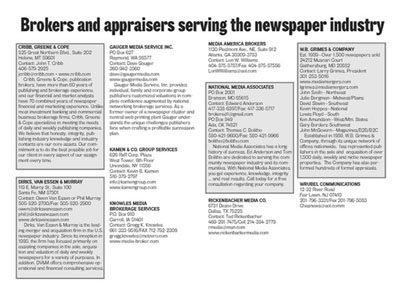 ---
Equipment
19 used Sho Racks with mechs. $50 each. 540-459-4000.
---
Help Wanted
Editor: The Norfolk Daily News – an independent, family-owned news organization serving the northeast quarter of Nebraska – is seeking an editor to guide its approximately 15-person newsroom and play a key role on its leadership team. The Daily News, which has been owned by the same family for more than 125 years, is known for its commitment to community advocacy and a conservative worldview, and is seeking an editor who embraces those foundational pillars. The Daily News publishes not only a six-day-a-week afternoon newspaper, but also a variety of digital products that continue to grow in scope. Its next editor will have a track record of journalistic excellence and a broad knowledge of the issues, challenges and opportunities in the evolving world of community journalism. The Daily News is seeking an individual who is equally comfortable in meeting with high-ranking elected officials as well as individual subscribers. The editor will especially be knowledgeable and excited about the digital side of journalism and how best to distribute content to effectively reach Nebraskans of all ages. To apply, contact Bill Huse, publisher, at whuse1@gmail.com.
---
To learn how to buy classified ad space, download the Media Kit below.