NNA Classifieds
Brokers:
GAUGER MEDIA SERVICE, INC.
Valuations, Sales, Mergers
Box 627
Raymond, WA 98577
www.gaugermedia.com
(360) 942-3560
---
GREGG K. KNOWLES
Knowles Media Brokerage Services
Appraisals, Sales, Acquisitions
(661) 333-9516
www.media-broker.com
---
KAMEN & CO. GROUP SERVICES
WWW.KAMENGROUP.com
626 RXR Corp. Plaza
West Tower,
6th Floor
Uniondale, NY 11556
516-379-2797
info@KamenGroup.com
The Leaders in Valuing & Brokering Publications
Newspapers, Magazines & Shoppers
We know valuations. We know deal-making. We'd like to get to know you, too!
Follow us on twitter at www.twitter.com/kamengroup
Let us provide the high level of professional, personal guidance and custom solutions that your media entity deserves. Global expertise, deep local market knowledge & unmatched integrity. We would be honored to help you.
---
Lon W. Williams
Media America Brokers
1130 Piedmont Ave. NE, Suite 912
Atlanta, GA 30309-3783
(404) 875-8787/FAX(404) 875-8756
LonWWilliams@aol.com
---
National Media Associates
Edward Anderson, Broker
417-338-6397
brokered1@gmail.com
Tom Bolitho, Broker
580-421-9600
P.O. Box 2001
Branson, MO 65615
Representing clients with our:
Knowledge —Experience — Integrity
in over 300 transaction. Visit us
at: "nationalmediasales.com" for a
confidential conversation
---
For a list of Newspaper Brokers, click here.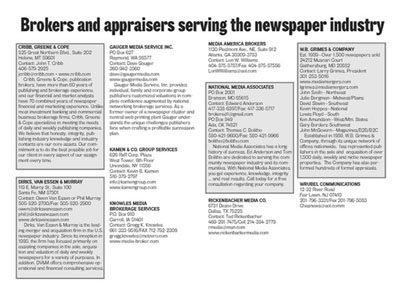 ---
Newspaper For Sale
Solid performing weekly and website in the gateway community of Sequoia National Park. Excellent growth potential. Husband-and-wife owners of 22 years will assist with smooth transition. Call: 559-260-2909
Web Presses:
NEW & USED WEB PRESSES
4HIs, 3/Color, Stacked units
AL Taber & Son PHA, LLC.
(770) 552-1528
altaeq@aol.com
www.altagraphics.com
---
Equipment for Sale
INSERTING machine. Muller 227e in excellent condition. PLC controlled, auto reject. 7 into 1 or double out 3 into 1. Also 12 unit press: two DGM 4-highs, two DEV 2-highs, DEV folder, six Martin splicers. Email gutenberg918@gmail.com for more info and pictures. In Arizona.
---
Inserting Machine- Kirk Rudy 412-4, 4 Station, 3HR, 220V, 3PH with large capacity vacuum. Touch screen controls. Excellent working condition. 15 years old. $9,000. Email twood@cninewspapers.com for details
---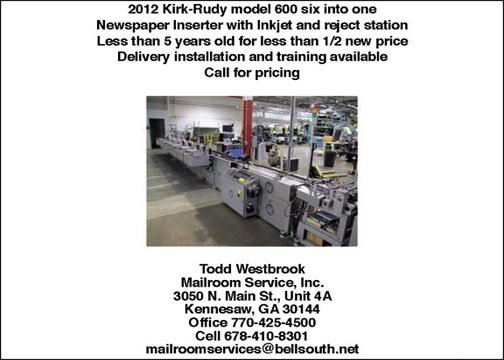 ---
Syndicated Columns:
KIDS MATTER!
Help the parents in your community.
Subscribe to SUPPORTING SUPER STUDENTS.
"Smarter parents for smarter kids"
Contact bettermroz@gmail.com.
---
THE PUZZLE SYNDICATE
Weekly & monthly crosswords and sudoku puzzles for newspapers and other publications, since 1999. Easy signup, no contracts.
---
Help Wanted
Publisher Needed: We are looking for a community minded leader with the ability to drive profitable revenue. The Branson (MO) Tri-Lakes News is a twice-weekly paid community newspaper in the Live Entertainment Capital of the World, Branson, Missouri. This individual must be an innovator who is ready to take this multi-media operation to the next level, realizing the opportunity we have through print, digital, and a growing commercial print operation.
The new publisher would report directly to the owners of the company, a family-owned community media group with 18 companies in seven states. This family has owned community newspapers since the 1960s, and is firmly focused on the future. Operations are in the states of Georgia, Kentucky, Mississippi, Texas, Missouri, Iowa and Arkansas.
World-famous Branson, Mo., built its reputation in the 1990s with its star-filled music shows, and continues that tradition today. The town has a population of only 10,000, but sees more than 8 million tourists annually.
In addition to the newspaper, we also publish a variety of shoppers, a free weekly entertainment publication, a free monthly visitor publication, a monthly real estate publication, an assortment of special sections and a full array of digital options for our advertisers.
We also have our own glossy sheet-fed printing operation which opens up many other possibilities for advertising solutions for our customers.
The new publisher will earn a competitive salary with a very generous bonus tied directly to operating profit. Other benefits such as free family health insurance, vehicle allowance, vacation, life insurance, etc. are all in the employment package. The owners wish to fill this important position quickly. Please apply online to John Lancaster, Vice President, Lancaster Management, Inc., at john@lminews.com. Be sure to include your resume, references, salary requirements and your goals for the future.
---
MARKETING REP
The National Newspaper Association is looking for individuals who believe in newspapers to join the NNA Marketing Council as independent representatives for NNA Regions 2, 4, 5, 6, 7, 8, 9, 10. We need individuals who are connected to the industry and who believe that community newspapers are the heart and soul of their towns, cities and counties, individuals who want to help build the newspaper industry. In this role you will contact newspaper editors and publishers and tell them about NNA and how the association can help their newspapers, their communities and their industry. If you're that individual, give us a call and let's talk! Marketing Council reps will have flexibility to design their own plans. We offer an expense stipend payable when the plan is accepted, and a good commission based on results. For more information contact Lynne Lance at NNA,
lynne@nna.org, 217-241-1400.
Regions:
2: (DC, DE, KY, MD, NC, TN, VA, WV)
4: (IL, IN, MI, NJ, OH, PA)
5: (MN, ND, SD, WI)
6: (IA, MO, NE, KS)
7: (AR, LA, OK, TX)
8: (AK, ID, MT, OR, WA)
9: (CO, NM, UT, WY)
10: (AZ, CA, HI, NV)
---
To learn how to buy classified ad space, download the Media Kit below.