NNA Classifieds
Brokers
GAUGER MEDIA SERVICE, INC.
Valuations, Sales, Mergers
Box 627
Raymond, WA 98577
www.gaugermedia.com
(360) 942-3560
---
Lon W. Williams
Media America Brokers
1130 Piedmont Ave. NE, Suite 912
Atlanta, GA 30309-3783
(404) 875-8787/FAX(404) 875-8756
LonWWilliams@aol.com
---
For a list of Newspaper Brokers, click here.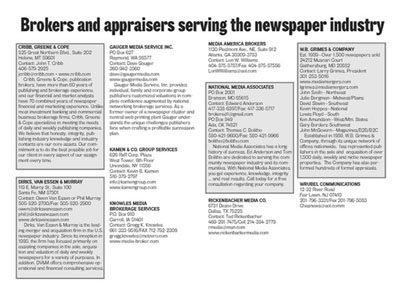 ---
Newspapers
FOUR VERY NICE MICHIGAN COMMUNITY PAPERS – Solid, traditional markets with excellent fundamentals. Good employment, diversified economies, attractive communities. Annual revenues $2.4 million. Longtime family ownership. Offered by National Media Associates. Tom Bolitho (580) 421-9600, bolithothomas@gmail.com; Ed Anderson (417) 338-6397, brokered1@gmail.com
---
To learn how to buy classified ad space, download the Media Kit below.