NNA Classifieds
Brokers
GAUGER MEDIA SERVICE, INC.
Valuations, Sales, Mergers
Box 627
Raymond, WA 98577
www.gaugermedia.com
(360) 942-3560
---
Lon W. Williams
Media America Brokers
1130 Piedmont Ave. NE, Suite 912
Atlanta, GA 30309-3783
(404) 875-8787/FAX(404) 875-8756
LonWWilliams@aol.com
---
KAMEN & CO. GROUP SERVICES, LLC
Print & Digital Media Appraisers, Accountants, Advisors & Brokers
www.KamenGroup.com
Meeting global multi-media business challenges with foresight & precision.
Proud to be the Expert Media Financial Valuation Resource for
"FORBES 400 List of America's Richest People" 2019, 2018, 2017, 2016, 2015.
info@KamenGroup.com | (516) 379- 2797 | www.KamenGroup.com
Kamen & Co. Group Services, LLC
626 RXR Plaza, West Tower, 6th Floor, Uniondale, NY 11556
---
For a list of Newspaper Brokers, click here.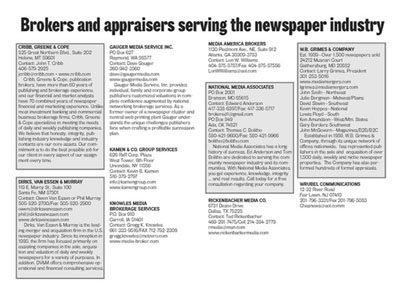 ---
Executive Director
The North Dakota Newspaper Association is accepting applications for the position of EXECUTIVE DIRECTOR. Candidates must embrace challenges, progress, teamwork and change. Newspaper/journalism background preferred. Responsibilities include overall association management, member contact and development, legislative/lobbying work, management of newspaper content sharing and advertising placement programs, personnel management for a staff of 5, and working with a board of directors/member committee structure. Competitive salary and benefits package. Application deadline is Jan. 31, 2020. Anticipated start date is May, 2020. Send letter, resume and salary requirements to: NDNA Search Committee, 1435 Interstate Loop, Bismarck, ND 58503, or newsmonitor@wahpetondailynews.com
---
To learn how to buy classified ad space, download the Media Kit below.