NNA Classifieds
Brokers:
GAUGER MEDIA SERVICE, INC.
Valuations, Sales, Mergers
Box 627
Raymond, WA 98577
www.gaugermedia.com
(360) 942-3560
---
GREGG K. KNOWLES
Knowles Media Brokerage Services
Appraisals, Sales, Acquisitions
(661) 333-9516
www.media-broker.com
---
KAMEN & CO. GROUP SERVICES
WWW.KAMENGROUP.com
626 RXR Corp. Plaza
West Tower,
6th Floor
Uniondale, NY 11556
516-379-2797
info@KamenGroup.com
The Leaders in Valuing & Brokering Publications
Newspapers, Magazines & Shoppers
We know valuations. We know deal-making. We'd like to get to know you, too!
Follow us on twitter at www.twitter.com/kamengroup
Let us provide the high level of professional, personal guidance and custom solutions that your media entity deserves. Global expertise, deep local market knowledge & unmatched integrity. We would be honored to help you.
---
Lon W. Williams
Media America Brokers
1130 Piedmont Ave. NE, Suite 912
Atlanta, GA 30309-3783
(404) 875-8787/FAX(404) 875-8756
LonWWilliams@aol.com
---
National Media Associates
Edward Anderson, Broker
417-338-6397
Tom Bolitho, Broker
580-421-9600
P.O. Box 2001
Branson, MO 65615
Representing clients with our:
Knowledge —Experience — Integrity
in over 300 transaction. Visit us
at: "nationalmediasales.com" for a
confidential conversation
---
For a list of Newspaper Brokers, click here.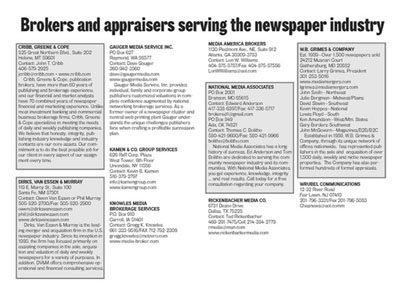 ---
Looking to sell your paper?
Former journalist, now college
professor, seeks to buy small weekly
in Great Plains, Midwest or South.
E-mail: blake.gumprecht@unh.edu
Web Presses:
NEW & USED WEB PRESSES
4HIs, 3/Color, Stacked units
AL Taber & Son PHA, LLC.
(770) 552-1528
altaeq@aol.com
www.altagraphics.com
---
Equipment for Sale
Inserting Machine- Kirk Rudy 412-4, 4 Station, 3HR, 220V, 3PH with large capacity vacuum. Touch screen controls. Excellent working condition. 15 years old. $9,000. Email twood@cninewspapers.com for details
---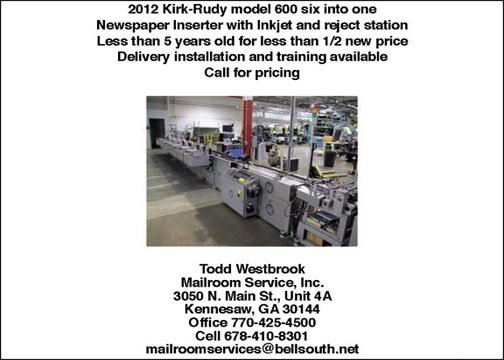 ---
Syndicated Columns:
KIDS MATTER!
Help the parents in your community.
Subscribe to SUPPORTING SUPER STUDENTS.
"Smarter parents for smarter kids"
Contact bettermroz@gmail.com.
---
THE PUZZLE SYNDICATE
Weekly & monthly crosswords and sudoku puzzles for newspapers and other publications, since 1999. Easy signup, no contracts.
---
Help Wanted
PUBLISHER
Excellent opportunity for a general manager at the Lincoln County Journal in Troy Missouri and Newstime in Lake St. Louis. Seeking an energetic and motivated person for this position. The successful candidate will have responsibilities and provide an essential connection between the newspaper and Corporate while providing leadership and support for their operations. Must be able to adapt to a very aggressive and fast growing market area. Ensuring delivery of financial goals is integral to the position. Candidates must have related managerial experience and a strong record of innovation, growth and achieving goals. Must possess experience with newspaper publishing, budgeting, operations, and sales. Manager would be responsible for sales and editorial staff. This position will ensure that the individual newspaper remains the primary and most relevant source for information in their respective markets while supporting the community they serve.
Position is salaried with full benefits. Please send resume, references, and salary expectations to (RStyles@lakewaypublishers.com)
---
MARKETING REP
The National Newspaper Association is looking for individuals who believe in newspapers to join the NNA Marketing Council as independent representatives for NNA Regions 2, 4, 5, 6, 7, 8, 9, 10. We need individuals who are connected to the industry and who believe that community newspapers are the heart and soul of their towns, cities and counties, individuals who want to help build the newspaper industry. In this role you will contact newspaper editors and publishers and tell them about NNA and how the association can help their newspapers, their communities and their industry. If you're that individual, give us a call and let's talk! Marketing Council reps will have flexibility to design their own plans. We offer an expense stipend payable when the plan is accepted, and a good commission based on results. For more information contact Lynne Lance at NNA,
lynne@nna.org, 217-241-1400.
Regions:
2: (DC, DE, KY, MD, NC, TN, VA, WV)
4: (IL, IN, MI, NJ, OH, PA)
5: (MN, ND, SD, WI)
6: (IA, MO, NE, KS)
7: (AR, LA, OK, TX)
8: (AK, ID, MT, OR, WA)
9: (CO, NM, UT, WY)
10: (AZ, CA, HI, NV)
---
To learn how to buy classified ad space, download the Media Kit below.