Join NNA Oct. 3-5, 2019, in Milwaukee, Wisconsin; Leading the Way in Our Communities

NNA's 133rd Annual Convention and Trade Show
, held at The Pfister Hotel in downtown Milwaukee, Wisconsin, will address pressing business objectives of community newspaper owners, publishers and senior staff with educational sessions and peer sharing activities.
Your full registration includes four general sessions, five sets of round table discussion sessions, an exhibit hall with more than 30 exhibitors and tickets to a welcome reception, two breakfasts, two lunches and one dinner with entertainment.
We value the time and resources you are considering investing in NNA's 133rd Annual Convention and Trade Show and promise you will not be disappointed.

Make reservations at The Pfister Hotel online or call (414) 273-8222 or 1-800-558-8222 and mention the National Newspaper Association / NNA Rate is $179 single/double (plus tax) until Sept. 12, 2019.
Airport & Transportation
Additional Hotels (Information to come)
NNA 2019 Convention Theme: Leading the Way in Our Communities
#NNAinMKE
See photos from the 2018 convention here.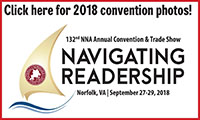 March 1, 2019
Jackie Spinner recently produced a documentary film in Arabic. This might not be unusual, but Spinner's day job is as an editor and journalism educator.
Spinner, who is headlining this year's National Newspaper Association's Annual Convention and Trade Show, started her life in Decatur, a small city in central Illinois.
June 29, 2017
YOU START HERE!
Past participants of the National Newspaper Association Convention & Trade Show say they easily recoup the cost of attending with the new ideas they take home and they say their time is well spent because they return energized and inspired.
For only $435 and three days out of the office, see how you will benefit from the innovation, education and camaraderie you will experience this October in Tulsa!
June 12, 2017
I remember my first National Newspaper Association convention vividly. It was in Atlanta, in 1988. The News-Gazette had been an NNA member for many years, but no one from the newspaper had ever attended the convention. My reason for going was because a major national retailer was building a large store in our town, and the company's marketing director was speaking at the convention. I felt I needed to hear more about the retailer's marketing and advertising strategy, particularly as it applied to newspapers.
May 3, 2017
National Newspaper Association members will find plenty to do before, after or in between sessions.
April 12, 2017
As a direct result of the 2016 National Newspaper Association 130th annual convention and trade show, I was able to introduce myself to several newspaper owners. This led to numerous quoting opportunities and new business, which has benefits for the NNA member and one of NNA's corporate partners.