Join NNA Oct. 1-3, 2020, in Jacksonville, Florida; Today's Readers, Tomorrow's Leaders

NNA's 134th Annual Convention and Trade Show
, held at Hyatt Regency in sunny Jacksonville, Florida, will address pressing business objectives of community newspaper owners, publishers and senior staff with educational sessions and peer sharing activities.
Your full registration includes general sessions, round table discussion sessions, an exhibit hall with more than 30 exhibitors and tickets to a welcome reception, two breakfasts, two lunches and one dinner with entertainment.
We value the time and resources you are considering investing in NNA's 134th Annual Convention and Trade Show and promise you will not be disappointed.

EXHIBIT & SPONSOR OPPORTUNITIES
As an EXHIBITOR you'll be able to meet newspaper owners and publishers!
Beyond convention opportunities
As a SPONSOR your company's support will be known by each participant.
2020 Sponsorship Opportunities
Questions? Ask Wendy MacDonald!
Host Hotel
The Hyatt Regency Jacksonville Riverfront is the host hotel. Book your room at the group discounted rate (mention NATIONAL NEWSPAPER ASSN): https://www.hyatt.com/en-US/group-booking/JAXRJ/G-NEWS
Airport
Jacksonville International Airport (JAX) is 15.2 miles from the host hotel; about a 30-minute drive. Click here for airport information: http://www.flyjacksonville.com/Home.aspx
With equal parts Florida Flavor and Southern Hospitality, Jacksonville has something for everyone. Learn more here: https://www.visitjacksonville.com/nna2020/
Click here to see 2019 convention photos. NNA member newspapers may reprint. Please attribute to Publishers' Auxiliary.
2018 photos from Norfolk, Virginia, here.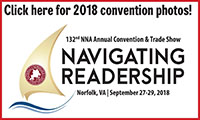 November 1, 2019
In explaining my work, I sometimes say that there are thousands of really good journalists in rural America, but all too often, they are the only person in their newsroom that fits that description. They suffer from the isolation of rurality, with fewer opportunities than urbanites to rub shoulders and exchange ideas with their professional peers.
That observation applies to independent rural publishers, too. They might attend state newspaper meetings, but there's nothing like the National Newspaper Association convention, where editors and publishers from New England, the North Woods, the Great Plains, the Corn Belt, the Deep South, the Intermountain West, the Pacific Coast and other regions exchange ideas. That's especially important for the approximately one-third of weekly newspapers not owned by groups, which can be sources of ideas (and instruction). Get them together, and they love to help each other.

November 1, 2019
Milwaukee, Wisconsin — Community newspaper publishers from all over the nation shared ideas for success at the NNA Leadership Summit that kicked off the association's annual convention at The Pfister Hotel in Milwaukee Oct. 3.
The summit was held at a time when newspapers face much turmoil and "the greatest challenges ever," said facilitator Marty Kaiser, who led the Milwaukee Journal Sentinel to three Pulitzer Prizes as editor and is a visiting fellow at the University of Maryland journalism school.
The theme of the summit was "How to make your newspaper an invaluable community asset," and in doing so, sustain it financially.

November 1, 2019
I don't know about you, but from time to time, I feel burned out at work. I can tell it's coming on when I start to procrastinate on doing regular tasks or put off making deci­sions. That's not good when you're trying to run a small business. Fortunately, we have a great group of people here at The News-Gazette who do their jobs well in a pretty fast­paced environment. But there are some things that fall to me for the final decision.
Most of us operate under some level of stress. Too much stress and constant, un­remitting stress is bad for us, we know. However, a modest amount of stress, perhaps bet­ter called motivation, keeps us on schedule and accomplish­ing the tasks we need to do. Whether it's from above from a supervisor or self-imposed, this form of stress is necessary to keep the wheels turning.
March 1, 2019
Jackie Spinner recently produced a documentary film in Arabic. This might not be unusual, but Spinner's day job is as an editor and journalism educator.
Spinner, who is headlining this year's National Newspaper Association's Annual Convention and Trade Show, started her life in Decatur, a small city in central Illinois.
June 29, 2017
YOU START HERE!
Past participants of the National Newspaper Association Convention & Trade Show say they easily recoup the cost of attending with the new ideas they take home and they say their time is well spent because they return energized and inspired.
For only $435 and three days out of the office, see how you will benefit from the innovation, education and camaraderie you will experience this October in Tulsa!
June 12, 2017
I remember my first National Newspaper Association convention vividly. It was in Atlanta, in 1988. The News-Gazette had been an NNA member for many years, but no one from the newspaper had ever attended the convention. My reason for going was because a major national retailer was building a large store in our town, and the company's marketing director was speaking at the convention. I felt I needed to hear more about the retailer's marketing and advertising strategy, particularly as it applied to newspapers.
May 3, 2017
National Newspaper Association members will find plenty to do before, after or in between sessions.
April 12, 2017
As a direct result of the 2016 National Newspaper Association 130th annual convention and trade show, I was able to introduce myself to several newspaper owners. This led to numerous quoting opportunities and new business, which has benefits for the NNA member and one of NNA's corporate partners.