Get started with digital ads
Apr 1, 2023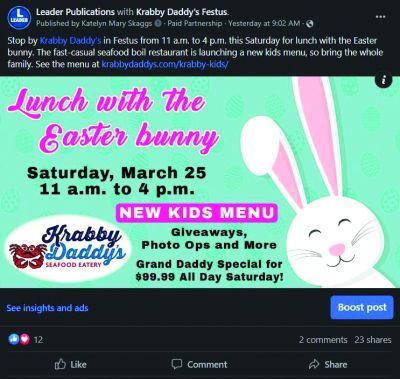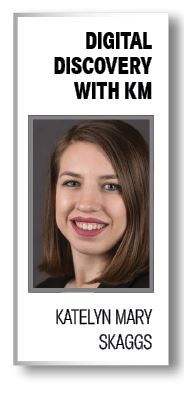 Hello, fellow newspaper nerds. My name is Katelyn Mary Skaggs, and I am so thrilled to start as a regular columnist for Pub Aux. Recently, I was promoted at Leader Publications from reporter to the digital marketing manager, a totally new position at the company. I have been tapped to lead the newsroom and sales department in the ever-changing digital world.
In the coming months, I plan to share ideas where the Leader has found success and even what has not been successful for us. I believe our print product will be around for years to come, but our digital offerings could be just as strong in readership and revenue soon.
First, a bit about me. I have worked at the Leader, a group of four papers in Festus, Missouri, since January 2019 as a reporter. I was a young, green intern for the Leader before graduation from Southeast Missouri State University with my journalism degree.
Before I found my home at the Leader, I was an intern for another local paper, which unfortunately ceased publication and laid everyone off, including me, the intern. Being told on Friday to not return on Monday was a hard lesson. I still wanted to work at a local paper, but I wanted it to have local control.
The Leader became my dream job; it's my hometown paper and not corporately owned.
OK, on to the good stuff.
If you hope to start offering some type of digital ads to regular print clients, I suggest Facebook ads on your own page as a step one.
Assuming most newspapers have a Facebook page and have worked to build a following on said page over the last few years, this can be a no –cost–to–you offering.
This is an easy way for the newspaper and clients to learn about what digital ads can offer.
Take a newspaper ad, resize it to 1200x630 pixels and post it on Facebook with a short message and link. Or create an ad just for Facebook and post it. A bonus is that the ad can tag their Facebook page and include a link, bringing future customers to the client.
The Leader posts these ads with a business partner or sponsored content tag from Facebook. If you have a verified business page on Facebook, you should have access to the feature. Verified business page does not mean blue check marked verified; it means Facebook has verified you as a real business. You can start the process in the Meta Business Suite.
You can add the tag while crafting any post; just look for the handshake symbol. This tells people you have received money for the post and allows you to avoid any possible community violations from Facebook. This also gives you expanded post analytics, which you can share with the client.
The other day, I had a sales meeting on Wednesday with a business who wanted to start general print ads but missed the deadline to start advertising an event, which was planned for the upcoming Saturday. I was able to offer them a Facebook ad post on Thursday, and their print ad appeared in next week's paper. Problem solved — even though it was not an ad in the paper, they were able to share the event, and we still made ad revenue.
We have set up some policies in our newsroom to make sure our Facebook feed contains more news than ads. Right now, we only allow one ad post per day. Everything posted is proofed by the newsroom first, and no political advertisements are allowed.
We started this service last year and at a price of $100 per post. Some clients handed over Benjamin Franklin without any problem, while some found the price high. We advertised the $100 rate as introductory, and the price was moved to $150 at the start of the year. Many clients adjusted to the price with no problem.
We also offer boost options, which means we pay Facebook to broadcast the post to more people. This is an add-on clients can pick. If they want to boost the post for three days, we charge them another $40. Most of the money does end up going to Facebook, but we take a small cut to pay for staff time and efforts.
A three-day boost for $40 is our lowest option with a $200 option, boosting the post for 12 days, the highest price point right now. Surprisingly, the $200 option has been the most selected.
A common question sales reps have gotten is, "What is your Facebook reach?" This answer can be found on your Facebook page under the professional dashboard tab in your menu. Facebook will give you a page overview from the last 28 days, and those numbers are the answer.
The two numbers that give people answers are post reach and post engagement. Post reach is the number of times any of your posts have been seen in the last 28 days. Post engagement is the number of times people have engaged in a post, meaning commented, shared, liked it or clicked a link.
Our Facebook page had 30,000 plus followers last year when we started, and now has more than 31,300. This is a big sales point for us, and the sales flier even reads, "Ready to harness the Leader's 30,000+ audience on Facebook?" at the top.
In simple form, this is influencer marketing. Over the years, the Leader has built up a social media following and community influence, so we are capitalizing off the hard work now.
Are you ready to capitalize off your social media influence?
Katelyn Mary Skaggs is the digital marketing manager for Leader Publications, a group of four papers in Festus, Missouri. Skaggs, a Southeast Missouri State University graduate, joined their ranks in January 2019 as a reporter. Email katelynmaryskaggs@leaderpublications.biz