Celebrating 50 years of newspaper ownership, Roy Eaton is still in the game
Feb 1, 2023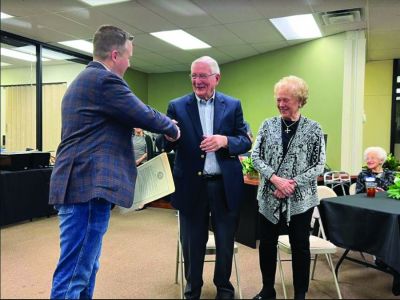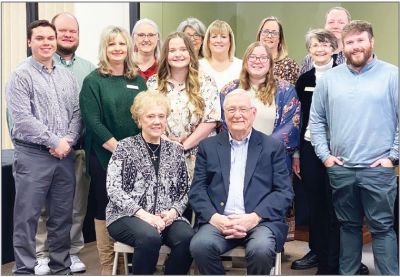 It was a cold New Year's Day in 1973 when Jeannine and I met in the law office of the late W. B. Woodruff with Gene and Rose Carter to sign the final papers to buy the Wise County Messenger. W. B. had prepared a two-page buy-sell agreement for us to sign. We signed it, gave the Carters our check and our great adventure was about to begin. – Roy Eaton, owner and publisher, Wise County Messenger, Decatur, Texas
Fifty years have gone by since Roy and Jeannine Eaton bought the Wise County Messenger, and their adventure continues.
A lot of life has happened since the cold New Year's morning in 1973 when they signed that purchase agreement. They raised three sons, built a successful business, and navigated many changes in the newspaper industry, from the years of cold-type publishing on Compugraphic photographic typesetting machines, to Apple design technology, to the advent of digital media.
Today, at 85, Eaton is focused on harnessing the power of social media, and he has become skilled at it. The Messenger's Facebook page has racked up 47,000 engaged followers who have contributed 41,000 "likes."
Eaton is semi-retired, healthy and jovial, and he still has an office at his newspaper in Decatur.
"These days, I come up here to work a couple of hours a day and waste the staff's time," he said, chuckling during a recent Zoom call.
The newspaper's flag proudly proclaims, "The Messenger — Serving All of Wise County," and over the years, that county has been in a perpetual growth mode. The U.S. Census Bureau recorded Wise County's population at 71,714 in 2021.
Decatur, the county seat, is about 40 miles north of Fort Worth, close enough for residents to take advantage of big-city amenities while enjoying small-town life. Neither the Fort Worth Star-Telegram nor the Dallas Morning News pose any threats to poaching on the Messenger's coverage area, but economic pressures are a source of constant concern, Eaton said.
"We have embraced digital publishing and social media because it has given us ability to do so many other things, but on the advertising side, we're trading dollars for dimes," he said. "And that is our biggest challenge."
Many of the town's merchants, particularly the car dealers and grocery stores, hear about the power of digital marketing and the importance having an online presence, and they try to use those platforms to market their businesses, Eaton said. And even the Messenger's 47,000 followers are not enough to entice them to advertise in the newspaper — print or online — as they did in the past.
Yet, loyalty still goes a long way in the newspaper business. Eaton applauds one of his best advertisers, a local western wear store with a huge online presence. Even when boasting nearly a quarter million social media followers, the store continues to advertise in the Messenger.
"I believe the Internet has taken over. It's a challenge, but we're hanging in there," he said.
As of February 1, the twice-a-week Messenger has scaled back to publishing weekly due to the skyrocketing costs of printing and mailing. The newspaper's website lists print circulation at 4,229.
"The reason we went twice a week in the first place was to be able to do more breaking news coverage and give advertisers a weekend edition," Eaton said.
Eaton has always been a breaking-news guy. It's in his blood, dating all the way back to his early career anchoring the 10 p.m. news at WBAP-TV, Channel 5, which the Fort Worth Star-Telegram owned at that time. The station covered 16 counties, and Eaton lived and worked in Fort Worth.
In a 50th Anniversary column for the newspaper, he wrote about how the Channel 5 team would make presentations to civic clubs throughout the station's viewing area. It was along this journey that he began considering buying the newspaper, which was known then as simply "The Decatur Paper."
He credits his first employee with coming up with a branding strategy to expand the newspaper's scope.
"Ken Roselle was on the public relations staff at the University of Texas at Arlington," Eaton wrote in his column. "Ken and I thought the Wise County Messenger name gave us the responsibility to cover the news all over the county."
After buying the newspaper, the Eatons continued living in Fort Worth and commuting to Wise County for two years before moving to Decatur.
Over the years, they relocated the newspaper's offices twice before buying a building in the center of town. Like many community newspapers in the 1970s and '80s, they diversified, becoming the only retail office supply and furniture dealer in the county, operating a commercial printing plant, and owning Hallmark gift stores in two towns.
They eventually sold off their auxiliary businesses and today offer a variety of Internet products "allowing us to develop our culture of breaking news even faster," Eaton said.
One of the newspaper's earliest concepts still generates significant income.
It's a news sheet called Update and comes out Monday through Friday in print and online. The staff distributes it around the county, to restaurants, county offices, banks and other businesses.
Update grew out of Eaton's passion for daily reporting.
"It was one of our most important ideas to keep our citizens informed on a daily basis — not only with news of the day, but with funerals, sports scores and schedules, and community events," he said. "We started printing Update without any advertising for a week to see if it would catch on, and it did."
Ads began pouring in as local businesses saw its value. And it gave the newspaper a chance to cover spot news.
Update was the perfect vehicle to report on a tragic shooting that killed a local police officer, and Eaton said that was the Messenger's big break in gaining traction over competition from area television stations, always skeptical about the way the newspaper reported the story.
The newspaper's reporters arrived on the scene of the shooting before the yellow crime tape went up, took photos, wrote the story and published it in Update before TV crews had a chance to get there. And by the time they arrived, the scene had been cleaned up.
"One TV reporter held up a copy of Update during a live feed from the county jail and said, 'This is what this town does for a newspaper,' Eaton wrote in his column. "That was OK because he had to use our coverage for his story."
Today, Update is still going strong, publishing daily news items, event schedules, sports scores, funeral services and other items of interest. It is posted on the newspaper's Facebook page and in a link from the website.
"I think we print about 3,500 copies now, and a lot of people read it online," Eaton said. "It's fun to walk into a little restaurant and other businesses in Decatur and see people reading it."
A profit center, Update brings in about $75,000 a year, he added.
Over the years, Eaton has played integral roles in the newspaper industry as president of both the National Newspaper Association and the Texas Press Association. He's also been a community leader, serving as captain and chief of the Decatur Volunteer Fire Department and on the boards of many community and civic organizations, including as chairman of the board of Decatur Community Hospital (now Wise Health System), where he was succeeded by Jeannine, who served on the board for 20 years, he wrote in his column.
And he has never missed a chance to take roles that harken back to his roots as a broadcast journalist.
"My involvement with the Fort Worth Stock Show has been a highlight of my life," he said. "I served as an announcer for the annual parade and the livestock shows for 51 years."
Moving into the newspaper's next 50 years, Eaton says he will be leaning on the talent and leadership of the newspaper's management team, led by general manager Kristi Bennett, who has worked at the Messenger for over 30 years. Other leaders are advertising sales manager Lori White and editor Austin Jackson. The Messenger was founded in 1880, and despite the ups and downs over the past 143 years, the newspaper has proven its staying power.
Eaton is not stopping, either, just slowing down a bit.
"At 85, with 67 years in the business, it's time to take it easy," he wrote in his column. "The police and fire scanners will still chatter at our house — it's a habit I have not been able to give up."
Teri Saylor is a business writer in Raleigh, North Carolina. Contact her at terisaylor@hotmail.com.