National Newspaper Association Foundation
The National Newspaper Association Foundation (NNAF) is the educational arm of the National Newspaper Association (NNA). Its mission is to promote news literacy, protect the First Amendment, and enhance the quality, role and capabilities of community newspapers and community journalists.
NNAF Washington News Fellows
This year will be the fourth year that our NNAF Washington News Fellows program will bring promising college seniors and juniors who are editors of their college newspapers to our nation's capital for a three-day hands-on training session in how to cover complex national issues from a community perspective. You may have seen their articles in PubAux or on this website.
Students in this year's program will cover an issue of national importance—how to understand the war on terrorism. They will interview Capitol Hill experts and Washington opinion leaders. They will ask how much Americans know about their government, and who is shaping their opinions. Their mission, as in the 2017 program, will be to detect the official spin on stories and help readers to spot the thin lines between fact and opinion. We are excited about this program. As people who care about journalism, we share the concerns of many who wonder how the social media and blogging will affect a nation traditionally trained to trust journalists for their facts. Teaching news literacy is an important mission for newspapers. This new program adds to NNAF's existing educational mission. To learn more about the program, click here.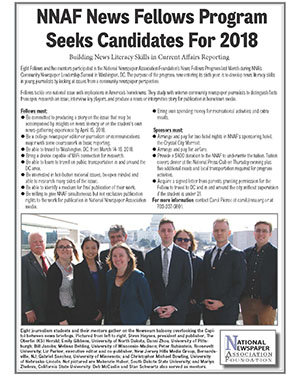 Newspapers In Education
We also help fund NNAF's Newspapers In Education program in partnership with the Missouri Press Foundation to provide serialized fiction and lesson plans for classroom use through 400 newspapers in 19 states.
How you can help
If you are interested in any of these specific programs or would like further information, please contact Reed Anfinson at reed@monitor-news.com. We hope you will include NNAF in your charitable giving this year. NNAF is a 501(c)(3) organization. Your gifts will be fully tax deductible.
Please mail your tax-deductible contribution to: National Newspaper Association Foundation, c/o Lynne Lance, 101 S. Palafox Pl. Unit 13323, Pensacola, FL 32591-7835, or call 1-850-542-7087.
If you would like to donate online to the National Newspaper Association Foundation, click below or contact any of the following individuals:
National Newspaper Association Foundation Trustees (2017-2018)
Officers

Reed Anfinson, NNAF President
Publisher, Swift County Monitor-News
Benson, MN
reed@monitor-news.com
Robert M. Williams Jr., NNAF Vice President
Pierce County Publishing Co.
Blackshear, GA
rwilliams@theblacksheartimes.com
William (Bill) Jacobs, NNAF Treasurer
Jacobs Properties
Brookhaven, MS
wojacobs@icloud.com
Merle Baranczyk, NNAF Secretary
Arkansas Valley Publishing Inc.
Salida, CO
merleb@avpsalida.com
Jerry Reppert, NNAF Immediate Past President
President, Reppert Publications
Anna, IL
jlreppert@annanews.com
Trustees
Larry Atkinson
President
Bridge City Publishing Inc.
Mobridge, SD
atkinson@mobridgetribune.com
Allen Beermann
Executive Director
Nebraska Press Association
Lincoln, NE
abeermann@nebpress.com
Mary Fisher
Fisher Publishing Inc.
Danville, AR
mfisher@arkwest.com
R. Jack Fishman
President
Lakeway Publishers Inc.
Morristown, TN
copyboy@lcs.net
Steve Haynes
President
Haynes Publishing Co.
Oberlin, KS
steve.haynes@nwkansas.com
William (Bill) Miller Sr.
Publisher
Missourian Publishing Company
Washington, MO
billmiller@emissourian.com
Will Norton, Jr.
Dean, Meek School of Journalism and New Media
University of Mississippi
University, MS
HWNorton1@gmail.com
Elizabeth (Liz) Parker, NNAF Immediate Past President
New Jersey Hills Media Group
Berardsville, NJ
eparker@newjerseyhills.com
Kenneth H. Rhoades
Co-Publisher
Enterprise Publishing Company
Blair, NE
krhoades@enterprisepub.com
Robert F. Sweeney
Publisher and Editor
Villager Newspapers, Inc.
Greenwood Village, CO
bsween1@aol.com
Honorary Trustees
Alan Cruikshank
Publisher
The Fountain Hills Times
Fountain Hills, AZ
alan@fhtimes.com
Dr. Edmund Ghareeb
Professor
Bethesda, MD
edmundghareeb@gmail.com
Ex-Officio
Tonda Rush
NNA CEO & General Counsel
Arlington, VA
trush@americanpressworks.com
Carol Pierce
American PressWorks
Arlington, VA
carol@nna.org