Learn from the best and most successful professional freelance writers in the country; American Society of Journalists and Authors offers scholarship for its 2023 conference
May 1, 2023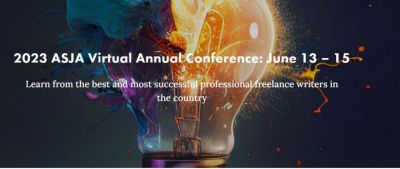 In an ever-competitive world, freelance writers succeed by staying current with industry trends, learning new techniques and tools, and connecting with other writers, editors, and clients.
The American Society of Journalists and Authors (ASJA) is here to help. As one of the largest professional freelance writer organizations in the country, ASJA assists members grow their bottom line by providing timely and relevant knowledge on the craft, marketing, and business of writing, as well as access to experts, editors, and peers.
Nowhere is this more evident than at ASJA's annual conference, which this year takes place June 13-15. The 2023 conference is virtual but still chockablock with information meant to educate and inspire.
At the three-day virtual event, be prepared to hear from exceptional keynote speakers. Choose from expert-led sessions in three distinct content tracks: books, content marketing writing, and journalism. Drop by informal snack chats to hear from experts and mingle with fellow attendees. Learn how to work smarter. Make new connections. Celebrate accomplishments with peers. You're sure to come away with new insights, confidence, and ideas for taking your career to the next level. Once again this year, scholarships are available to freelance writers and students from historically underrepresented populations; see the application here (contact Kristine Hansen with any scholarship questions).
Click here for the full schedule at a glance.
ASJA is offering scholarships to freelance writers and students from historically underrepresented populations to attend the conference. Scholarships cover the cost of conference registration and are due by midnight, Eastern Time on May 12, 2023. Decisions will be made by May 26, 2023 and recipients notified thereafter. The scholarship application is available here.
Please direct questions to Kristine Hansen, the ASJA conference committee member leading this year's scholarship effort, at kristinehansenwriter@gmail.com.