About Publishers' Auxiliary
Publishers' Auxiliary (Pub Aux) is the only national publication serving America's community newspapers. First published in 1865, Publishers' Auxiliary is also the oldest newspaper serving the newspaper industry. Get your media planner here.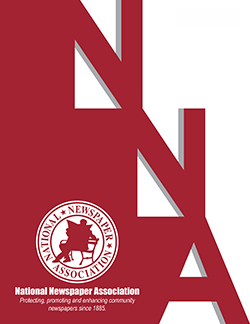 It is a must-read for those in the community newspaper business. It provides valuable and up-to-date information and ideas on the management, operation and production of community newspapers. It is also a valuable source of information about public policy and other issues affecting community newspapers.
Publishers' Auxiliary is also an excellent advertising vehicle for those who sell to newspapers and small businesses. The paper is read by decision makers, many of whom own multiple newspapers.
A digital archive of Publishers' Auxiliary back issues is now available in an interactive online version from Pressmart. This new e-Edition features automated continuation of articles, active links to all websites and e-mails referenced in the publication, quick-find searches, page specific viewing, e-mail notification and more.
If you have any questions, feel free to contact the Publishers' Auxiliary staff:
Wendy MacDonald
Sales Director
Trade Show, Advertising & Sponsorship Sales
913-461-3721
wendy@nna.org

Kate Richardson
Managing Editor
217-820-0212
kate@nna.org
Advertise in Publishers' Auxiliary
Opportunity for Allied Members with Pub Aux Live
Opportunities for Allied Members with Pub Aux Products & Services e-newsletter
See the most current issue of Pub Aux and view the Pub Aux archives.
The National Newspaper Association, in partnership with E-Type Services, is making Publishers' Auxiliary available in an interactive online version.
Editorial guidelines, including information about fees, writers contracts, the Publishers' Auxiliary styleguide and more.
Publishers' Auxiliary is accepting entries for its next quarterly photo contest. There is no entry fee. Photos should be from within the last year from the contest deadline. Please indicate whether the photo should be entered into the news, feature or sports category. The first place winners in each category will receive personalized coffee mugs with their winning photos on them or a poster-size reprint of their photo.